And at number 6, you have chosen Brentford manager Uwe Rösler.
Uwe Rösler
Uwe Rösler spent 4 years of his playing career at Manchester City between 1994 and 1998 before moving back to Germany. The centre forward scored a respectable 65 goals within 181 appearences for the blues, in a series of high quality performances.
Rösler made his Manchester City debut in March 1994 in a reserve match whilst on trial. In this reserve match, he managed to score two goals and this meant that he was given a chance in the first team.
City loaned Rösler after his two goals on trial, and he made his debut for the first team against QPR on the following Saturday. He was then signed on a permanent deal for around £400,000 after racking up 5 goals in 12 games.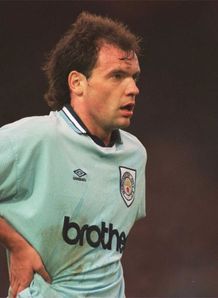 Rösler was given the player of the year award by the club after the 1994-95 season, where he grabbed 15 goals in 31 games. He started the season with the bang, and not of the right kind.
He was sent off against Arsenal in a 3-0 defeat, however he managed to keep his head up and carry on his form from the season before - and went on to score 4 in an FA cup tie against Notts County. Rösler was the first player to do this since Johnny Hart in 1953.
Rösler became unhappy during the 1995-95 season under the leadership of Alan Ball. Ball changed City's tactics for the worse and this change meant that Rösler struggled to retain his form of the year before.
Rösler and Ball made the headlines various times with apparent disagreements. These disagreements resulted in Rösler being dropped from the side, and when brought on as a sub against Manchester United he scored a brilliant chip almost instantly. City were relegated at the end of this season and Rösler decided to stay at the blues.
Rösler left the club in 1998 on a free transfer after City were relegated to Division 2. Rösler played 181 games for Manchester City during his four year spell and scored 65 goals. Rösler is now manager at Brentford and has been put into City's "Hall of Fame" and rightly so.
Come back tomorrow to find out who makes number 5 on our Manchester City heroes list!
Watch Uwe Rösler score at Old Trafford