Newly promoted side take headlines
By Archie Barnett
Manchester City went into the game at the Cardiff City Stadium in high spirits, travelling to Wales on the back of a 4-0 victory against Newcastle. However, it wasn't to be the day that many City fans imagined, with a poor general team display and a lack of anything special - other than the goals.


In general, I think I may have fallen asleep during the first half due to a severe lack of entertainment. One shot on target from David Silva (even that didn't challenge), and a few attempts off target is all I can really remember - other than a Joe Hart save. The only other thing I remember is seeing Cardiff City owner Vincent Tan on several occasions - who wins my award for the worst dressed owner in football - a replica football shirt over a normal shirt whilst tucked into trousers, really? I'm really not going to bore you with the minute details that the first half consisted of, so straight onto the second.


The second half saw five goals, two from Manchester City and unfortunately three for Cardiff. It was City who took the lead after 52 minutes, as a forward pass from Yaya Toure was touched back by Sergio Aguero, to find Edin Dzeko. A vicious strike from the Bosnian striker was too much for David Marshall, who's sprawling dive couldn't stop the ball from nestling into the corner of the goal.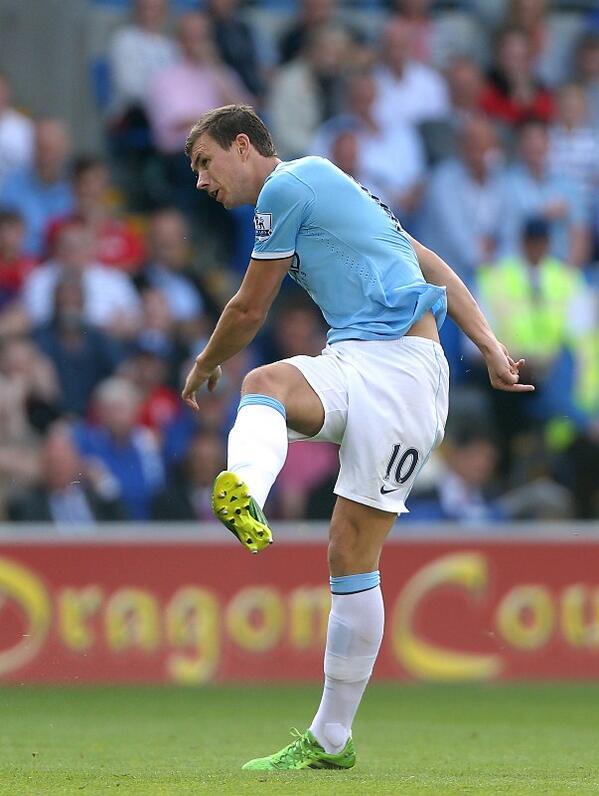 Edin Dzeko shapes up for first goal of the game
Photo: Official MCFC Facebook
The lead only lasted 7 minutes for the away side, as Kim Bo-Kyung was allowed to skip passed numerous defenders, with Clichy appearing not willing to make a much needed challenge. Kim was then able to find a free Fraizer Campbell - after being left by the normally exceptional Pablo Zabaleta - who's strike was saved by Joe Hart, only to find Aron Gunnarson who tapped into the goal.
Cardiff City then made it 2 in the 78th minute, a goal that was very much against the run of play. A sprawling Joe Hart was unable to deal with an in swinging corner, allowing Campbell to nod in to a pretty much gaping goal.
Shortly after, Campbell was allowed to nod home from another corner, after he lost Zabaleta yet again, making the score 3-1 to the newly promoted side.
City were given a glimmer of hope after Alvero Negredo headed in on the 91st minute mark, after meeting a cross from Spanish team-mate David Silva. City had a couple more chances come their way to try and save a point, however an offside decision, bad finishing and stubborn defending was enough to make sure that a draw could not be salvaged.
Today's game has surely provided evidence that the defence needs to be somewhat strengthened in the absence of Vincent Kompany and Matija Nastasic - the sooner they are fit again the better. On the day though, I feel that City were beaten by a determined side that were stubborn in their approach and never gave up - you can't take anything away from the 'Bluebirds'.
Highlights from the 3-2 defeat can be seen below:
Stats
16(9) Shots (on target) 16(5)
2 Fouls 9
What did Pellegrini say?
(c) The Sky Blue View 2013